Andrew Pepper & t!Ps™ Areas of Expertise
Andrew Pepper founded This is Petroleum Systems LLC in September 2015. Andy is an innovator with over 34 years' industry experience in Petroleum E&P, across Business delivery and in Research. As an individual contributor:
After obtaining a 1st Class Honors degree in Geological Sciences at the University of Leeds, UK, he began his career with BP in 1981 as a Geologist in international exploration
Given the opportunity to work in BP's Geochemistry Research Lab in the late 80's, he went on to devise models of petroleum formation that are now industry standards
Subsequently returning to the business as a geologist and - what we would now call - a Petroleum Systems Analyst, Andy broadened his worldwide experience and reach, culminating in a role in BP's highly successful Gulf of Mexico sub-salt exploration program
As a leader:
By 2000, Andy had defined Petroleum Systems Analysis as a new workflow and introduced the Petroleum Systems Analyst as a new team role at BP; subsequently advocating these ideas more widely in the Industry
He continued at Hess and BHP Billiton as a functional leader in Geology and Geoscience; alternating with business roles leading US and International Exploration and New Ventures teams, both Conventional and Unconventional
Throughout his leadership tenure, Andy has continued as a strong advocate for technical rigor in petroleum geoscience, and specifically Petroleum Systems Analysis, together with its practical application to Volume, Risk and Value assessment
Andy has a long record of innovation, publication and presentation, developing people through coaching and training, and service to the Geoscience community.
Innovations
In 1990, co-authored BP's desk-top published Petroleum Geoscience Handbook In 2000, led development of the Petroleum Systems Class within the 21st Century Geoscientist core training program In early 2000's, designed BP's Prospect Risking Matrix methodology, presented at the AAPG by Peter Carragher in 2004 At Hess in the mid 2000's, led development of a Petroleum System Class and prospect risking methodology Most recently at BHP Billiton as VP of the Geoscience Function, sponsored numerous proprietary conventional and unconventional processes and workflows and the supporting training.
Publications
Best known as primary author of a trilogy of papers published in 1995, describing a model of petroleum formation which is today standard within industry workflows and commercial software packages Co-author of numerous other papers including the first to document modeling of pressure and vertical charge in the Gulf of Mexico Most recently, with his former team at BHP Billiton in 2015, published results of an Unconventional Global Endowment Study.
Presentations and other contributions to the Geoscience Community
Since 1989, has presented at and / or chaired numerous sessions at AAPG Annual and International Conference and Exhibition meetings, AAPG Hedberg and Gulf Coast Association of Geological Societies meetings, International Meeting of Organic Geochemists, Gordon Conferences, and elsewhere Served as reviewer for Marine and Petroleum Geology and AAPG Bulletin Served on International Ocean Drilling Program Steering Committee Through participation in many regional and global initiatives over the past 34 years, Andy Pepper has a familiarity at some level with most of the world's basins. Basins and geographic areas of particular depth and familiarity include: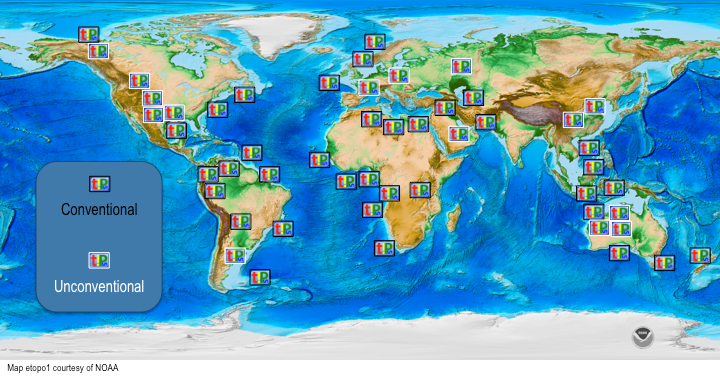 North America: Permian, Denver, Powder River, Williston, West Canada North Atlantic and associated basins: Haltenbanken, North Sea, Porcupine, Paris, Aquitaine-Parentis, Scotian, eastern USA margin Central Atlantic and associated basins: Senegal, Tano (Ghana & Cote d'Ivoire), Foz do Amazonas, Gulf of Mexico basins (US and Mexico), North Cuba, Caribbean South Atlantic basins: Rio Muni (Equatorial Guinea), Congo Fan, Campos-Santos, Neuquen, Orange South America: East Venezuela-Columbus, Maracaibo, sub-Andean basins of Venezuela, Colombia, Peru and Bolivia Mediterranean, North Africa and Middle East: Algerian basins, Sirte, Nile Delta, Levantine, Zagros (Iraq-Kurdistan-Turkey) Eastern Europe, Russia and Former Soviet Union: Poland, Lithuania, South Caspian, Volga-Urals, East Sakhalin China: Pearl River, Red River, Bohai, Sichuan, Junggar-Santanghu Australasia: East Java, Kutei-Makassar, North Palawan, Nam Con Son, Australian Northwest Shelf, Canning, Amadeus, Officer, Beetaloo-McArthur, Bight, Gippsland, Taranaki